SPIKE2 Speaker Grill Set... Covers - glossy black plus Speaker Grill Rings - multiple colors available, each set of 2
available (2-5 days)
approx. $34.28 (tax free)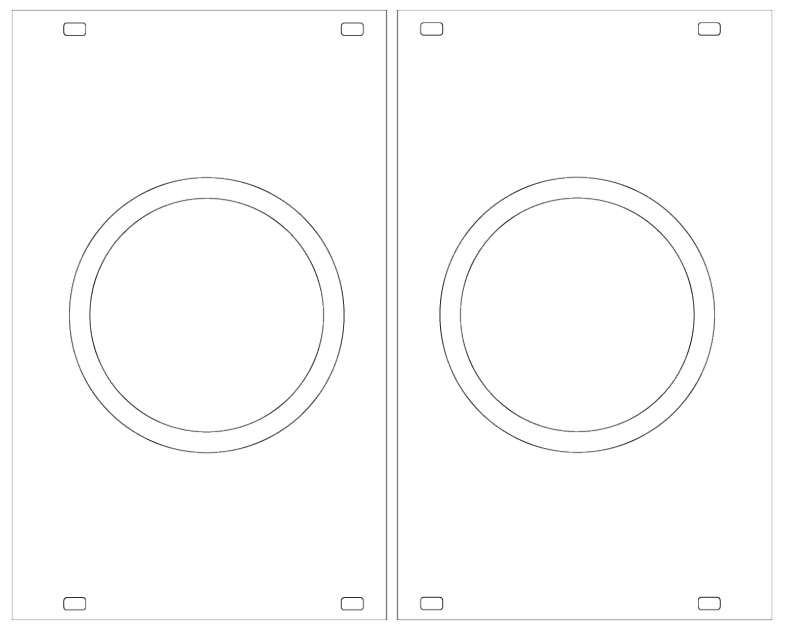 Speaker grill covers replace the foam material. Left and right are different. They are manufactured from 3mm plexiglass – glossy black.

The rings in different colors are just laid in.

All Colored Plastics are made of lasercut 3mm Plexiglas. On rare occassions you might need a slightly longer screws. Most of the plastics are available in multiple colors.
Included in delivery: 4 Pieces
This product is suitable for the following flippers:
Aerosmith (Limited Edition) | 2017
Aerosmith (Premium) | 2017
Aerosmith (Pro) | 2017
Avengers: Infinity Quest (Premium) | 2020
Avengers: Infinity Quest (Pro) | 2020
Batman 66 (Catwoman Edition) | 2019
Batman 66 (Limited Edition) | 2016
Batman 66 (Premium) | 2016
Black Knight Sword of Rage (Pro) | 2019
Black Knight Sword of Rage (Premium) | 2019
Deadpool (Premium) | 2018
Deadpool (Pro) | 2018
Elvira's House of Horrors (Premium) | 2019
Godzilla (Premium) | 2021
Godzilla (Pro) | 2021
Guardians of the Galaxy (Premium) | 2017
Guardians of the Galaxy (Pro) | 2017
Iron Maiden (Premium) | 2018
Iron Maiden (Pro) | 2018
Jurassic Park (Premium) | 2019
Jurassic Park (Pro) | 2019
Led Zeppelin (Premium) | 2020
Led Zeppelin (Pro) | 2020
Star Wars (Limited Edition) | 2017
Star Wars (Premium) | 2017
Star Wars (Pro) | 2017
Star Wars Comic Art (Premium Edition) | 2017
Star Wars Comic Art (Pro) | 2017
Stranger Things (Premium) | 2019
Stranger Things (Pro) | 2019
Teenage Mutant Ninja Turtles (Premium) | 2020
Teenage Mutant Ninja Turtles (Pro) | 2020
The Beatles (Diamond Edition) | 2018
The Beatles (Gold Edition) | 2018
The Beatles (Platinum Edition) | 2018
The Mandalorian (Premium) | 2021
The Mandalorian (Pro) | 2021
The Munsters (Premium) | 2019
The Munsters (Pro) | 2019