Button Protector - halfcircle (Stern)
available (2-5 days)
approx. $8.98 (tax free)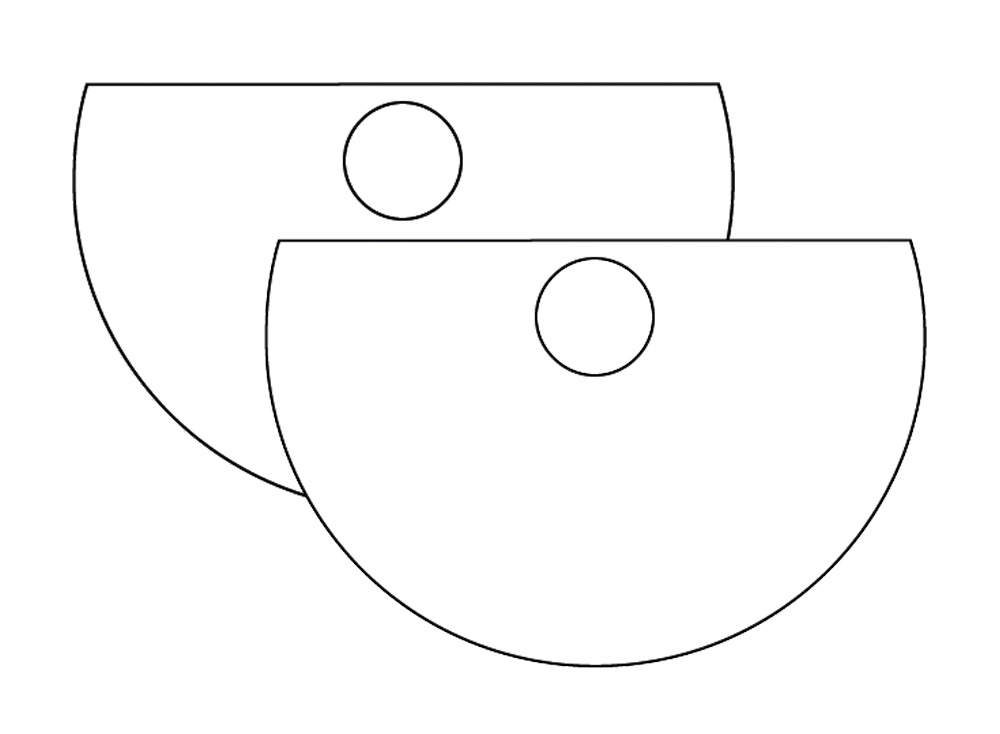 Our Button Protectors are made of 0,6 mm high gloss Vivak.

Button Protectors are the ultimate protection of the area around the buttons.

Compared to the button protection decals you don't have worry about removing them while causing damage to the decals or the coat.

The are two sizes… "classic" and "half circle"...
Included in delivery: 2 Pieces
This product is suitable for the following flippers:
AC/DC (Premium Vault Edition) | 2017
AC/DC (Premium) | 2012
AC/DC (Pro Vault Edition) | 2017
AC/DC (Pro) | 2012
Aerosmith (Premium) | 2017
Aerosmith (Pro) | 2017
Apollo 13 | 1995
Austin Powers™ | 2001
Avatar (Pro) | 2010
Avengers: Infinity Quest (Premium) | 2020
Avengers: Infinity Quest (Pro) | 2020
Batman | 2008
Batman 66 (Catwoman Edition) | 2019
Batman 66 (Premium) | 2016
Big Buck Hunter Pro | 2010
Black Knight Sword of Rage (Pro) | 2019
Black Knight Sword of Rage (Premium) | 2019
Black Spider-Man™ | 2007
CSI | 2008
Dale Jr. | 2007
Deadpool (Premium) | 2018
Deadpool (Pro) | 2018
Elvira's House of Horrors (Premium) | 2019
Elvis | 2004
Family Guy | 2007
Foo Fighters (Premium) | 2023
Foo Fighters (Pro) | 2023
Game of Thrones (Premium) | 2015
Game of Thrones (Pro) | 2015
Ghostbusters (Premium) | 2016
Ghostbusters (Pro) | 2016
Godzilla | 1998
Godzilla (Premium) | 2021
Godzilla (Pro) | 2021
Goldeneye | 1996
Grand Prix | 2005
Guardians of the Galaxy (Premium) | 2017
Guardians of the Galaxy (Pro) | 2017
Harley-Davidson® (2nd Edition) | 2002
High Roller Casino | 2001
Independence Day | 1996
Indiana Jones | 2008
Iron Maiden (Premium) | 2018
Iron Maiden (Pro) | 2018
Iron Man | 2010
Iron Man (Pro Vault Edition) | 2014
James Bond 007 (Premium) | 2022
James Bond 007 (Pro) | 2022
Jurassic Park (Premium) | 2019
Jurassic Park (Pro) | 2019
KISS (Premium) | 2015
Led Zeppelin (Limited Edition) | 2020
Led Zeppelin (Premium) | 2020
Led Zeppelin (Pro) | 2020
Lost In Space | 1998
Metallica (Premium) | 2013
Metallica (Pro LED) | 2014
Metallica (Pro) | 2013
Mini-Viper | 1996
Monopoly™ | 2001
Mustang (Premium) | 2014
Mustang (Pro) | 2014
NASCAR | 2005
NBA | 2009
NFL | 2001
Pirates of the Caribbean | 2006
Playboy® | 2002
Ripleys Believe It or Not | 2004
RollerCoaster Tycoon | 2002
Rolling Stones (Pro) | 2011
Rush (Premium) | 2022
Rush (Pro) | 2022
Shrek™ | 2008
South Park | 1999
Space Jam | 1996
Spider-Man | 2007
Spider-Man (Vault Edition) | 2016
Star Trek (Premium) | 2013
Star Trek (Starfleet Pro) | 2013
Star Wars (Premium) | 2017
Star Wars (Pro) | 2017
Star Wars Comic Art (Premium Edition) | 2017
Star Wars Comic Art (Pro) | 2017
Star Wars Trilogy | 1997
Starship Troopers | 1997
Stranger Things (Premium) | 2019
Stranger Things (Pro) | 2019
Striker Xtreme | 2000
Teenage Mutant Ninja Turtles (Premium) | 2020
Teenage Mutant Ninja Turtles (Pro) | 2020
Terminator 3: Rise of the Machines | 2003
The Avengers (Premium) | 2013
The Avengers (Pro) | 2012
The Beatles (Diamond Edition) | 2018
The Beatles (Gold Edition) | 2018
The Beatles (Platinum Edition) | 2018
The Lord of the Rings | 2003
The Lord of the Rings (Limited Edition) | 2009
The Lost World Jurassic Park | 1997
The Mandalorian (Premium) | 2021
The Mandalorian (Pro) | 2021
The Munsters (Pro) | 2019
The Simpsons Pinball Party | 2003
The Sopranos | 2005
The Walking Dead (Premium) | 2014
The Walking Dead (Pro) | 2014
The X Files | 1997
Transformers™ (Pro) | 2011
TRON: Legacy | 2011
Twister | 1996
Venom (Premium) | 2023
Venom (Pro) | 2023
Viper Night Drivin' | 1998
Wheel Of Fortune | 2007
Whoa Nellie! Big Juicy Melons™ | 2015
World Poker Tour™ | 2006
Wrestlemania (Pro) | 2015
X-Men (Pro) | 2012